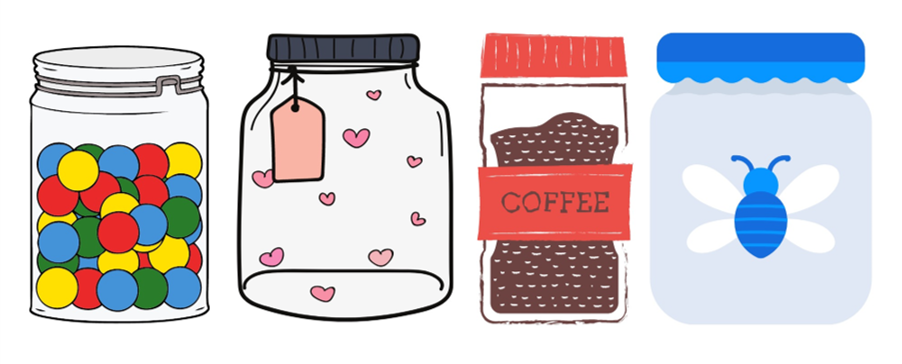 WHAT IS THE GOD CONFIDENCE JAR CHALLENGE?
Many times we allow our minds to focus on what's "wrong" with us rather than what is right…
A God Confidence Jar is where you will record things that are "right" about you; what God says about you; quotes, sayings, etc. that make you feel good about yourself– daily for 31 days. So I challenge you to shift your mindset and to think of yourself how God thinks of you.
Some examples of what could go in your Jar:
A scripture that highlights what God says about you
A quote you like
A compliment you received
An affirmation ( I like to create mine based upon scripture)
A fear you've conquered
Something that made you smile
Something you are grateful for
Goal that you have achieved
A fear that you have conquered
Those are just a few examples, but all wonderful things to reflect upon once you've completed the God Confidence Jar Challenge!
This will be a great keepsake to have, and a tool to use to renew our minds.  In Romans 12:2 we are told that we are transformed by the renewing of our minds.  In Philippians 4:8 we are told what things to focus our minds on.  It says to think on what is true, honest, just, pure, lovely, of good report, and praiseworthy.  The God Confidence Jar Challenge is a fun way to do just that! Register today at 31modes.com
By doing this for 31 days- the hope is that we begin to develop the habit of focusing on who we are as a daughter of The King.
What you need:
A Jar: any size, shape material.  Use an old pickle jar, peanut butter jar- or go to the .99 store and buy one- your choice. You can decorate it if you choose
Paper: You can use colored scraps of paper or use different color pens/pencils on white paper. (Origami paper is great for this but not necessary)
Proper Heart Attitude: A willingness and desire to get a better understanding of who you are according to God.  Willingness to be consistent and disciplined as you shift your mindset
Once you have all your tools- we can get started.  You will need to write down and put one thing in your God Confidence Jar a day.  By all means feel free to add more than one!
When we get to the end of this journey – you will have created a personalized reserve of God Confidence!  Whenever you need it you can just open your jar! So if you are having a bad day or feeling less than- that's a great time to crack open your God Confidence Jar and pull out a message that will remind you of how great you are and where your confidence truly lies. 
Sign up for the God Confidence Jar Challenge today at 31modes.com – once you do, you will receive weekly email throughout challenge. Perhaps you are stuck or don't think you have anything to put in your jar- this email will give you some suggestions you can use.  You will get access to the private Facebook group- this will be a great place to encourage one another and share thoughts.  You will also receive a weekly video or podcast.  Did I mention this is FREE?  Well it's all FREE so go ahead and register today at 31modes.com
Let's make this process fun and enjoyable – Let's Ignite transformation!