Here at 31 Modes Of A Virtuous Woman we are a community of women who desire to use our God given gifts talents and abilities; as we strive to be the best version of ourselves according to God and who He says we are. Most importantly we support, honor, inspire, nurture, and encourage ourselves and one another.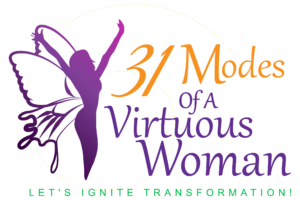 The butterfly is entrenched in the logo of 31 Modes Of A Virtuous Woman because we are about transformation.
"Let's Ignite Transformation"- that is the tagline and philosophy of 31 Modes Of A Virtuous Woman based upon Romans 12:2 that tells us:
Do not conform to the pattern of this world, but be transformed by the renewing of your mind. Then you will be able to test and approve what God's will is—his good, pleasing and perfect will.

Romans 12:2 New International Version (NIV)
As the Spiritual LifeStyle Coach, I help women to navigate the various phases and issues in their lives by working on the two foundational relationships they have – with God and themselves. As we grow in those two relationships, we give ourselves and one another the opportunity and ability to shine.
When we shine it allows us to cheer others on, to help and serve others. 31 modes is a community where we all shine because you do not grow in isolation you only grow in community.
Here are a few of our Signature Programs:
Debt Free Mode: Biblically based program that shows you how to analyze your spending habits, reduce your debt, take steps towards building your savings, etc.
The Masters Mind: 9-month mastermind cohort where you can grow existing business ideas or receive assistance in formulating your business idea with other like-minded women- admission by application only
ByFaith Vision Board Workshop Series: 5-week program to create faith-based vision board which helps you to manifest your goals
Prayer/Fasting Journeys: 30–90-day programs where we focus on specific aspects of our life in order to enhance those that are desirable and decrease or prayerfully eliminate those that are undesirable
31 Modes Challenges: 7-to-31-day programs to help build our skill in various areas